Buda Castle Walking Tour
Buda Castle Walking Tour - Private Sightseeing Tour in the Castle District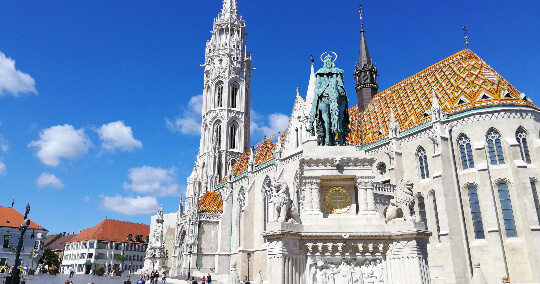 Enjoy a 3-hour walking tour of Budapest's UNESCO-listed Castle District, led by a private guide.
Type: day tours in Budapest
Departs from: Budapest
Meeting point: city center hotels
Duration: 3 hours
Available languages: EN, DE, FR, IT, ESP, PT, RU
Available: daily at 10:00; 12:00; 14:00
Visit the jewel of the area, the Buda Castle, and see the lovely murals inside Matthias Church. You'll learn all the fascinating local history from your guide as you wander the medieval streets and pathways. The tour will conclude at Fisherman's Bastion, the neo-Gothic arcade that overlooks the Danube and Parliament and is prime for taking photos.
Tour ends at your hotel.
Get 5% discount: book airport transfer and any of the tour together, and we give you 5% discount from the shown price of the excursions.
Sights
- Private walking tour of Budapest's Castle District
- Explore medieval streets and hidden pathways
- Enjoy panoramic views of Budapest and the Danube River from Fisherman's Bastion
- Discover the secrets of Matthias Church (interior visit)
- Matthias Church Bell Tower visit (optional)
Includes
- Meeting at your city center hotel
- Personal guide
- Public transport tickets to / from the hotel
- Matthias Church interior visit
- Fisherman's Bastion (entrance ticket included)
- Matthias Church Bell Tower entrance ticket (if selected)
Excludes
- Meals and drinks
- Personal expenses
- Tips and gratuities
- Optional activity costs
Please note
- Book a private Buda Castle Walking tour with a personal tour guide!
- Fully private tours at any time, at your convenience!
- The duration and the route of the Buda Castle Walking Tour can be totally tailor-made according to your wishes!
Price / person
1 person: 130€/pers
2 persons: 65€/pers
3 persons: 47€/pers
4 persons: 39€/pers
5 persons: 33€/pers
6 persons 30€/pers
7 persons: 29€/pers
8 persons: 28€/pers
9 persons: 27€/pers
10 persons: 26€/pers
11 persons: 25€/pers
12 persons: 24€/pers