Private Pécs Tour
Private Pécs Tour - Day Trip, Pécs Tour from Budapest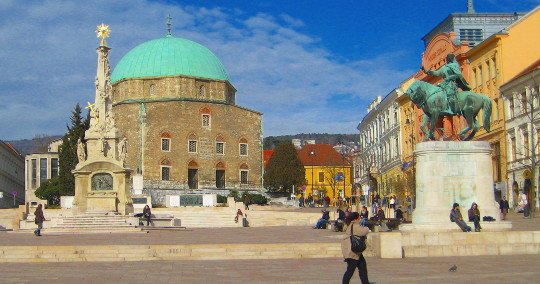 Explore the world heritage site Early Christian Necropolis, and other sights in Pécs. Book your Private Pécs Tour now!
Type: Tours around Budapest
Departs From: Budapest
Meeting Point: Hotel pick-up
Duration: 10 hours
Available Languages: EN, DE, FR, IT, ESP, PT, RU
Available: daily at 08:00
Pécs is the fifth largest city of Hungary, located on the slopes of the Mecsek mountains in the south-west of the country. Pécs guards a 2000 years of history started with the Romans at the beginning of the 2nd century. Its episcopate was founded in 1009 by Stephen I, and the first university of Hungary was founded here, in 1367 by King Louis the Great. Moreover, Pécs is the richest town in Hungary in terms of Turkish architecture also, with the ruins of Memi Pasa's Baths and the mausoleum of the miracle worker Idris Baba, just two notable remains to mention.
During the tour we visit the Early Christian Necropolis (UNESCO World Heritage Site), the Cathedral of Pécs, Gazi Kasim's Mosque on the main square, the world famous Zsolnay and Csontváry Museums, and take a walk in the beautiful inner city.
After lunch we go to the nearby Pécsvárad, where the the most significant Hungarian heritage from the middle ages – the Benedictine monastery commissioned by King St. Stephen, and the castle from the 14th century – was built. The monastery's remains boast a chapel with original frescoes from the 10th century, which are unique romanesque monuments all over Europe.
Get 5% discount: book airport transfer and any of the tour together, and we give you 5% discount from the shown price of the excursions.
Sights
- Memi Pasha's Bath
- Early Christian Necropolis (UNESCO World Heritage Site)
- Cathedral of Pécs
- Gazi Kasim's Mosque
- Zsolnay Museum (optional, not include)
- Csontváry Museum (optional, not include)
- Pécsvárad – Benedictine monastery
Includes
- Hotel pick-up
- Personal guide
- Transportation by air-conditioned car/ minivan
- Entrance fee to Cathedral of Pécs
- Entrance fee to Early Christian Necropolis
- 3 course menu
- Hotel return
Excludes
- Personal expenses
- Tips and gratuities
- Optional activity costs
Please note
- Book a Private Pécs Tour with a personal tour guide, travel in comfort and relax with our Door-To-Door Service!
- Fully private tours at any time, at your convenience!
- The duration and the route of the Private Pécs Tour can be totally tailor-made according to your wishes!
Price / person
1 person: 520 euro / person
2 persons: 300 euro / person
3 persons: 230 euro / person
4 persons: 200 euro / person
5 persons: 180 euro / person
6 persons: 170 euro / person
7 persons: 170 euro / person
8 persons: 156 euro / person
9 persons: 144 euro / person
10 persons: 134 euro / person
11 persons: 130 euro / person
12 persons: 124 euro / person