Private Hollókő Tour
Private Hollókő Tour - Day Tour- Hollókő Ethnographic Village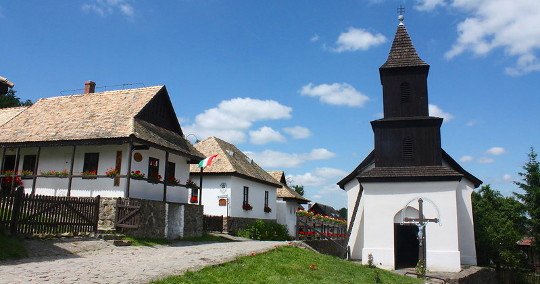 Explore the traditional village of Hollókő. Experience the typical rural life of the Palóc people at this UNESCO World Heritage Site. See craftsmen at work and taste the regional food at lunch.
Type: Tours around Budapest
Departs From: Budapest
Meeting Point: Hotel pick-up
Duration: 6 hours
Available Languages: EN, DE, FR, IT, ESP, PT, RU
Available: daily at 09:00
After an hour's drive you will arrive in the UNESCO World Heritage village of Hollókő, where you will see its protected buildings, including masterpieces of 17th-Century vernacular architecture! Get panoramic views from Hollókő Castle and enjoy authentic Palóc tastes in the heart of the village!
The old village is a great example of a deliberately preserved traditional settlement and it developed during the 17th and 18th centuries mainly. It also is a fine example of rural life before the agricultural revolution of the 20th century. Highlights include the Hollokö castle, the Hollokö 16th century wooden towered church and the Hollokö houses, converted to folk museums that are preserved in their original state, including the obiquitous craft shops inside.
Get 5% discount: book airport transfer and any of the tour together, and we give you 5% discount from the shown price of the excursions.
Sights
- Hollókő castle
- Wooden towered church (16th century)
- Traditional buildings of Hollókő
Includes
- Hotel pick-up
- Personal guide
- Entrance fee to Hollókő castle
- 3 course menu
- Hotel return
Excludes
- Personal expenses
- Tips and gratuities
- Optional activity costs
Please note
- Book a Private Hollókő Tour with a personal tour guide, travel in comfort and relax with our Door-To-Door Service!
- Fully private tours at any time, at your convenience!
- The duration and the route of the Private Hollókő Tour can be totally tailor-made according to your wishes!
Price / person
1 person: 340 euro / person
2 persons: 185 euro / person
3 persons: 148 euro / person
4 persons: 119 euro / person
5 persons: 102 euro / person
6 persons: 90 euro / person
7 persons: 87 euro / person
8 persons: 80 euro / person
9 persons: 75 euro / person
10 persons: 71 euro / person
11 persons: 67 euro / person
12 persons: 64 euro / person