Danube Legend Boat Tour - Budapest Sightseeing Cruise
Budapest Sightseeing Cruise on the river Danube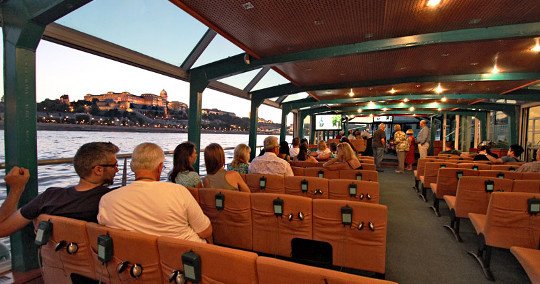 One hour Budapest Sightseeing Cruise on the Danube with a glass of champagne. Go on this cruise and enjoy the wonderful view of Budapest swimming in lights.
Duration (hours): 1
Type: Day Tours in Budapest
Departs from: Budapest
Meeting point: Vigado Dock, Dock Nr 7
Available languages: 30
Available: Daily at 20:15, 21:00, 21:30, 22:15, more departures see Available
You are invited for an hour's panoramic boat ride at night. Glass in hand you will be able to experience how the legends of Budapest come alive. Look behind the walls of the Royal Palace, the Parliament, the bridges, and other splendid sights all bathed in light.
Get 5% discount: book airport transfer and any of the tour together, and we give you 5% discount from the shown price of the excursions.
Sights
- Go on board an evening sightseeing cruise on the River Danube and see the lights of the capital as you listen to famous Hungarian personalities talk about the history of the city through your individual headsets, with the narration available in 30 languages.
- We will start at the center of Budapest and watch a film showing the inner beauties of the buildings and monuments as seen on the riverbanks.
Includes
- 1-hour long evening sightseeing cruise
- 30-language film- and audio-guide
- 1 glass of drink - choice of champagne, wine, beer, soft drinks, mineral water
- free wifi on board
Excludes
- Meals
- Tips and gratuities
- Personal expenses
- Optional activity costs
Please note
- Hotel pick-up NOT included.
Price / person
Available
Jan 1 - Febr 28:
17:00, 18:00, 18:30, 19:30, 20:00, 21:00
March 1 - Apr 9:
19:30, 21:00
Apr 10 - Sept 14:
20:00, 20:45, 21:30, 22:00
Sept 15 - Oct 28:
18:00, 18:30, 19:30, 20:00, 21:00
Oct 29 - Dec 31:
17:00, 18:00, 18:30, 19:30, 20:00, 21:00