Hungarian Dance Performance in Budapest
Hungarian Dance Performance in Budapest - 1,5 h Folklore Performance in Danube Palace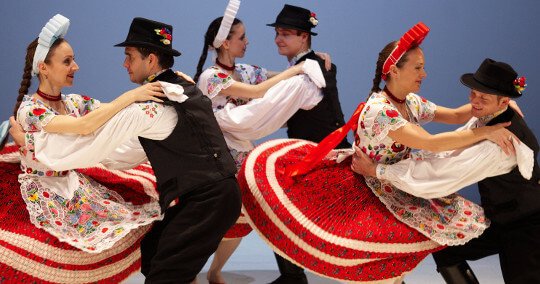 Experience an authentic piece of Hungarian culture at a folk performance in Budapest at Danube Palace. You'll enjoy 1.5 hours of music and dancing by one of the best professional folk ensembles in Hungary!
Duration (hours): 1,5
Type: Day Tours in Budapest
Departs from: Budapest
Meeting point: Danube Palace (Zrínyi u. 5.)
Available: at 20:00, meeting at 19:30
After arriving at Danube Palace, the theater usher will escort you to your seat in your selected seating category for your evening entertainment. Depending on your chosen date and venue, you'll enjoy a show by the Danube Folk Ensemble, the Hungaria Folk Ensemble or the Hungarian State Folk Ensemble.
No matter which you choose, you can be sure you'll be entertained by some of the best professional folk performers in Hungary; all three performance groups were founded in the 1950s and have shown off their talents around Hungary and abroad! The 30 artists in each ensemble perform choreography based on authentic dances, some of which date back to isolated villages from hundreds of years ago.
As you watch and listen, gain an entertaining understanding of Hungary's heritage through the music, dancing and costumes of the folk show.
Each show consists of two 40- to 45-minute sections with an intermission of ten to fifteen minutes.
Get 5% discount: book airport transfer and any of the tour together, and we give you 5% discount from the shown price of the excursions.
Sights
- Enjoy a 1.5-hour folk show 
- See one of three renowned folk troupes: the Hungarian State Folk Ensemble, the Danube Folk Ensemble or the Hungaria Folk Ensemble and Orchestra.
- Enjoy the historical setting of the Danube Palace performance venue 
- Be entertained by traditional Hungarian music and dance!
Seating in the Danube Palace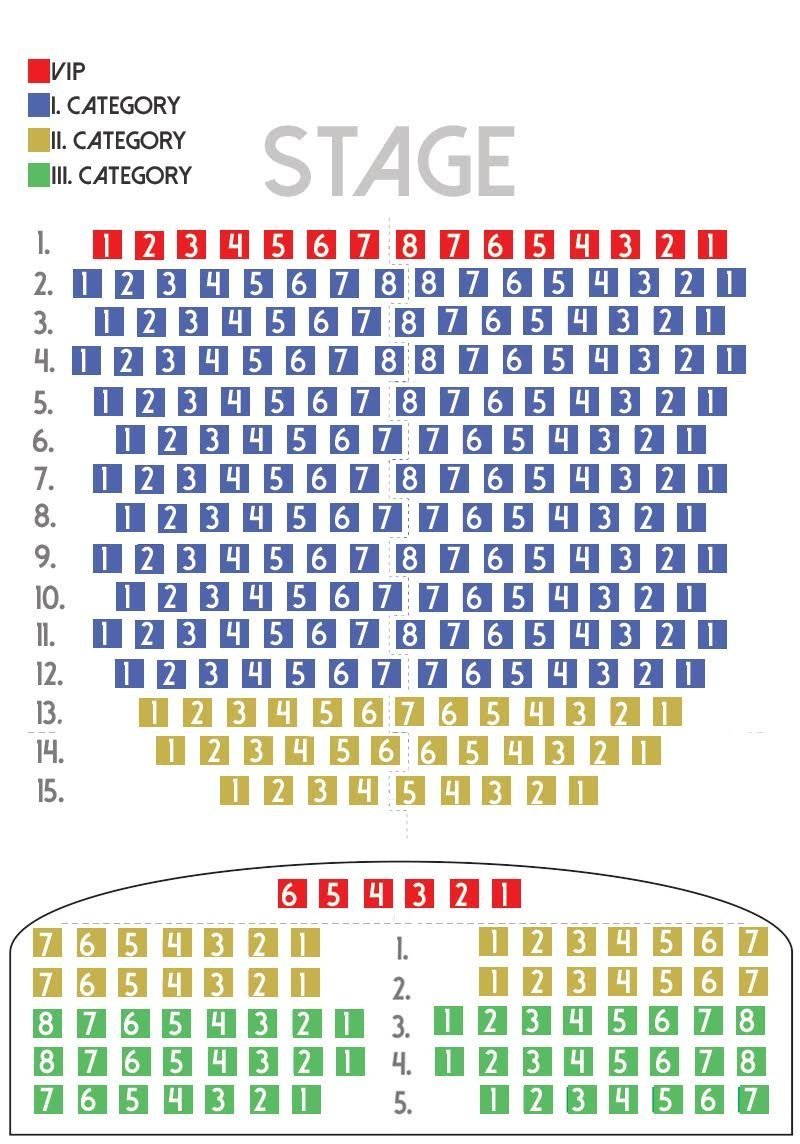 Includes
- theater ticket
- 1,5h folklore program
Excludes
- Tips and gratuities
- Personal expenses
- Optional activity costs
Please note
- Hotel pick-up NOT included.
Price / person
Adult 
Category I: 37€
Category II: 33€
Category III: 24€
Student 
Category I: 34€
Category II: 31€
Category III: 22€
Hotel pick up & drop off 14€/p 
Available
The folklore program available in 2021 is as follows:
Dinner Cruise with Operetta & Folklore Show
2022
January:
February: 
March:
April: 6, 13, 19, 20, 21, 22, 26, 27
May: 1, 2, 3, 5, 6, 7, 8, 9, 12, 13, 14, 15, 16, 17, 19, 20, 21, 22, 23, 24, 26, 27, 28, 29, 30
June: 2, 3, 4, 5, 6, 7, 9, 10, 11, 12, 13, 16, 17, 18, 19, 20, 21, 23, 24, 25, 26, 27, 28, 30
July: 1, 2, 3, 4, 5, 7, 8, 9, 10, 12, 15, 16, 17, 18, 19, 21, 22, 23, 24, 25, 26, 28, 29, 30, 31
August: 1, 3, 5, 6, 7, 8, 9, 11, 12, 13, 14, 15, 16, 18, 19, 21, 22, 23, 25, 26, 27, 28, 29, 30
September: 1, 2, 3, 4, 5, 6, 8, 9, 10, 11, 12, 13, 15, 16, 17, 18, 19, 22, 23, 24, 25, 26, 27, 29, 30
October: 1, 2, 3, 4, 6, 7, 8, 9, 10, 11, 13, 14, 15, 16, 17, 20, 21, 24, 25, 27, 28, 31
November: 1, 2, 9, 16, 23, 30
December: 7, 14, 21, 23, 26, 28, 29