Váci Street Budapest
Váci Street, Budapest: the famous pedestrian shopping street of Budapest
Váci Street is the most famous, traditional shopping street of Budapest. It runs from the Vörösmarty Square, to the Great Market Hall, around a mile long. Váci Street became a fashionable shopping street at the end of the 18th century.
In the Middle Ages, the length of this street (1300 meters, just under a mile) equaled the length of the city of Pest. The two separate parts of  Váci Street, to the north and the south of Elisabeth Bridge, are totally different. The northern part is overcrowded with tourists and shop windows in every building, while the southern part, which is also pedestrianized, has a quieter and more historical atmosphere.
Váci Street is bordered by Vörösmarty tér from the North. The square is dominated by a new, all-glass office building which is in harmony with the historical buildings in the square. It's worth trying a cake at the Gerbeaud, Budapest's most famous confectioner before we walk to the south, towards Elisabeth Bridge. Neither Váci utca, nor most of the side streets that lead to it have any motorized traffic.
After the Elisabeth Bridge, we arrive to Március 15-e tér (March 15 Square), from where the southern part of the shopping street continues. The street seems wider, but it's an illusion: it's simply not as crowded as the northern part. There are almost as many shops here, but the selection is less naff and glitzy. Moreover, famous Hungarian designers and artists have their workshops here, and the beautifully ornamented Budapest Council building too.
Take a quick look into Szerb utca – here is Budapest's biggest Serbian Orthodox church, surrounded by a low wall. This is where the Serbian community in Budapest holds its religious ceremonies.
The southern end of the street is bordered by Fővám tér, where the largest market hall of city, the Central Market Hall stands.
Best things to do on Váci Street, Top attractions of Váci Street: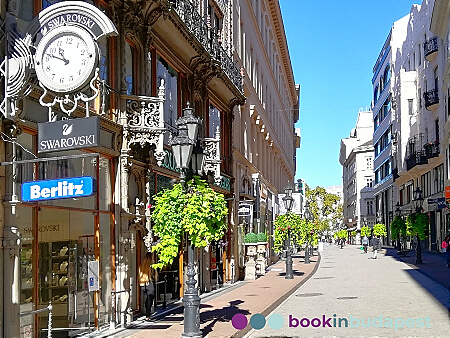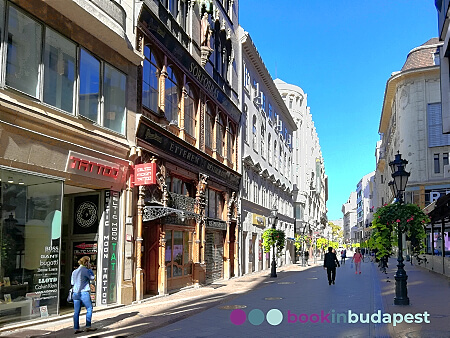 Budapest, Váci utca

Metro: line M1 - Station: Vörösmarty tér
Metro: line M3 - Station: Ferenciek tere
Metro: line M4 - Station: Fővám tér


Elisabeth Bridge (300 m)
Pesti Vigado (350 m)
Central Market Hall (800 m)
Chain Bridge (1000 m)
Rudas Thermal Bath (1000 m)