Paris Courtyard in Budapest
Paris Courtyard: an eclectic style passageway in Ferenciek Square
Paris Courtyard, also known as Brudern House, is located in Ferenciek Square.
The building was built as the headquarters of the Downtown Savings Bank. On the ground floor there were shops in the passage, on the first and second floors there were offices of the bank, on the upper floors there were rental flats. Construction took 4 years and was completed by 1913.
The facade of the eclectic building, which mixes the Moorish and Gothic styles, is decorated with copper and glass mosaics. The crystal glass domes of the passage exude a special atmosphere.
The building is a hotel now, the passage is open to the public.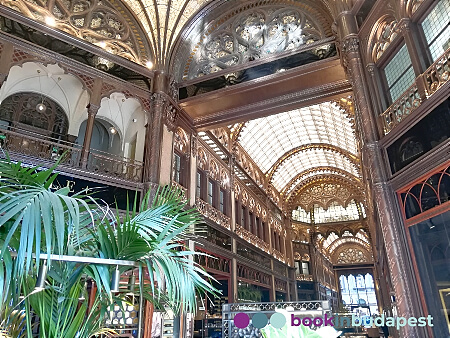 1053 Budapest, Ferenciek tere 10

Free of charge

Monday: 10:00 – 22:00
Tuesday: 10:00 – 22:00
Wednesday: 10:00 – 22:00
Thursday: 10:00 – 22:00
Friday: 10:00 – 22:00
Saturday: 10:00 – 22:00
Sunday: 10:00 – 22:00

Metro: line 3– Station: Ferenciek tere


Inner City Franciscan Church (0 m)
Ferenciek Square (0 m)
Váci Street (220 m)
Inner City Parish Church (300 m)
Orthodox Cathedral of Our Lady (500 m)
Elisabeth Bridge (500 m)