Inner City Parish Church
Inner City Parish Church: the oldest church in Budapest
Inner City Parish Church, or Church of the Blessed Virgin Mary, is located on the banks of the Danube, at the Pest side of the Elizabeth Bridge.
The oldest foundation of today's church is a military fortress built during the Roman Empire, which was built more than 1,500 years ago. The oldest details of the church can be dated to the beginning of the 11th century. In 1046, Bishop Gellért was buried here. It was rebuilt in the Gothic style in the 14th century with the support of King Sigismund.
In the 15th century, King Matthias added two more side ships. It was used as a mosque in Turkish times, the memory of which is a mihrab (prayer cabin) in the southeast wall of the sanctuary. After a fire in 1723, between 1725 and 1739, it was restored in Baroque style.
The two lookouts of the church offer stunning views of the Danube river and Buda.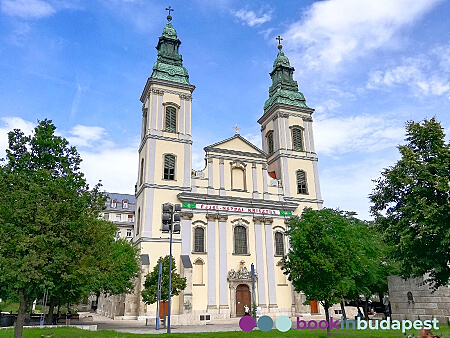 1056 Budapest, Március 15. tér

Adults: HUF 2600,
Students, pensioners: HUF 1800

Monday: 10:00 – 17:00
Tuesday: 10:00 – 17:00
Wednesday: 10:00 – 17:00
Thursday: 10:00 – 17:00
Friday: 10:00 – 17:00
Saturday: 10:00 – 17:00
Sunday: closed

Metro: line 3– Station: Ferenciek tere


Váci Street (130 m)
Elisabeth Bridge (150 m)
Orthodox Cathedral of Our Lady (180 m)
Paris Courtyard (300 m)
Ferenciek Square (300 m)
Inner City Franciscan Church (350 m)