Orthodox Cathedral of Our Lady in Budapest
Orthodox Cathedral of Our Lady: The largest Orthodox church in Budapest
The Orthodox Cathedral of Our Lady is located on the banks of the Danube near the Elizabeth Bridge in Pest.
The number of Greek-speaking residents of Budapest increased in the 18th century, thanks to the large number of Greek and Macedonian merchants who settled. In 1785 it was decided to build their own church.
The twin-tower building was built in 1801 according to the plans of József Jung. In 1873, according to the plans of the celebrated architect Miklós Ybl, the towers were made and the facade was finalised.
The grandiose neoclassical church became a defining element of the view of the Danube bank.
During World War II, the church and its southern tower were damaged, and the tower was not rebuilt until 2010.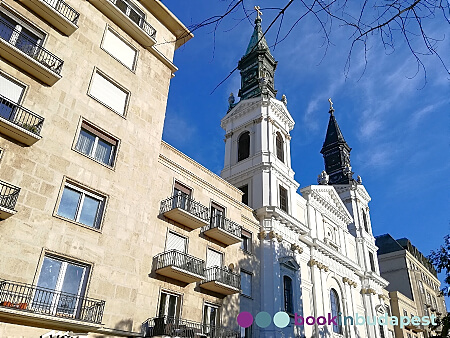 1052 Budapest, Petőfi tér 2

Free

Monday: closed
Tuesday: closed
Wednesday: 14:00 – 17:00
Thursday: closed
Friday: 13:00 – 17:00
Saturday: closed
Sunday: closed

Metro: line 3– Station: Ferenciek tere


Inner City Parish Church (180 m)
Váci Street (220 m)
Elisabeth Bridge (300 m)
Vigadó Concert Hall (300 m)
Ferenciek Square (400 m)
Paris Courtyard (450 m)