Szervita Square
Szervita Square: an exciting square with Baroque, Classicist, and Art Nouveau buildings
Szervita tér is located in the center of Budapest, between Váci Street and Erzsébet Square.
Szervita Square is one of the most exciting environments in the center of Budapest. Almost all architectural styles can be discovered from the 18th to the 21st century in the surrounding buildings.
Memories of 18th century Baroque architecture include the Invalidus House (today the Budapest City Hall), the Church of St. Anne and the statue of Mary.
The 19th century is represented by two beautiful classicist buildings.
The dominant buildings of the square were built in the spirit of Art Nouveau. The Szénássy and Bárczai Department Store and the Turkish bank building built in 1906 are beautiful examples of this.
The 21st century is represented by an office building and a hotel in the square.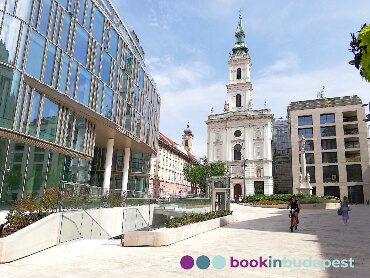 1052 Budapest, Szervita tér

Metro: line 1, 2, 3 - Stop: Deák Ferenc tér


Downtown St. Anne's Church (0 m)
Budapest Town Hall (160 m)
Váci Street Budapest (170 m)
Vörösmarty Square (270 m)
Paris Courtyard (300 m)
Ferenciek Square (320 m)
Inner City Franciscan Church (400 m)