Downtown St. Anne's Church in Budapest
Downtown St. Anne's Church: richly gilded baroque church on Szervita Square
The St. Anne's Church in the city center is located on Szervita Square, close to Deák Square and Váci Street.
The church was built between 1725 and 1732. According to many, it is one of the most beautiful baroque buildings in Budapest. The church took its current form in 1874, when the tower was given another level.
The interior of the church is also in Baroque style. Richly decorated gilded surfaces characterize the interior design.
The statue of Mary in front of the church was placed on the square in 1729.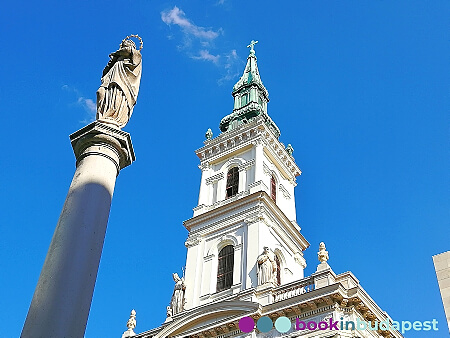 1052 Budapest, Szervita tér 6

Free of charge

Monday: 10:00 - 18:30
Tuesday: 10:00 - 18:30
Wednesday: 10:00 - 18:30
Thursday: 10:00 - 18:30
Friday: 10:00 - 18:30
Saturday: 10:00 - 18:30
Sunday: 08:30 - 18:30

Metro: line 1, 2, 3– Station: Deák tere


Szervita Square (0 m)
Budapest Town Hall (160 m)
Váci Street Budapest (170 m)
Vörösmarty Square (270 m)
Paris Courtyard (300 m)
Ferenciek Square (320 m)
Inner City Franciscan Church (400 m)