University Church in Budapest
University Church, Church of St. Mary the Virgin: magnificent 18th century Baroque church in the city center
The University Church of Budapest can be found in the University Square, close to Váci Street.
After the demolition of the mosque in this place, the construction of the church began in 1723. The construction of the church was completed in 1770, when the external works were finished and the internal equipment was completed.
In 1786 the church was attached to the University.
The church has a main nave lined with a row of chapels. Its walls are covered in artificial marble, and its vaults are decorated with frescoes by Johann Bergl.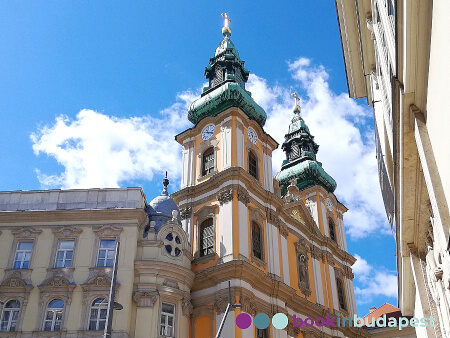 1053 Budapest, Papnövelde u. 8

Free of charge

Monday: 09:00 – 17:00
Tuesday: 09:00 – 17:00
Wednesday: 09:00 – 17:00
Thursday: 09:00 – 17:00
Friday: 09:00 – 17:00
Saturday: 09:00 – 17:00
Sunday: 09:00 – 17:00

Metro: line 3– Station: Ferenciek tere


Váci Street (220 m)
St. Michael's Church (240 m)
Ferenciek Square (300 m)
Inner City Franciscan Church (300 m)
Serbian Church (300 m)
Paris Courtyard (350 m)
Hungarian National Museum (450 m)