St. Michael's Church in Budapest
St. Michael's Church: a remarkable Baroque church in the bustle of Váci Street
The Church of St. Michael in Budapest is located in the middle of Váci Street.
The construction of the church dates back to the 1700s. The church was built between 1700-1765 for the Dominican order. In 1787 the building came under the Congregatio of Jesus.
During the Great Flood of Budapest in 1838, the water stood two meters high in the church, yet the wood furnishings of the church were saved.
Worth a visit are the Rococo altar depicting St. Dominic and the ceiling fresco, which was only restored in 1999.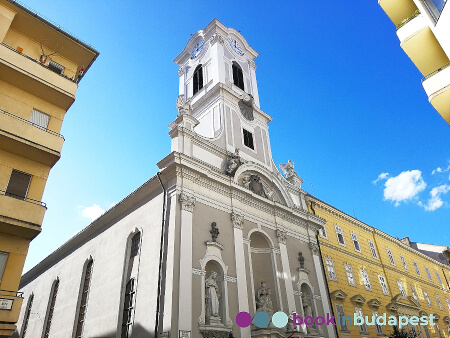 1056 Budapest, Váci u. 47/b

Free of charge

Monday: 09:00 – 18:00
Tuesday: 09:00 – 18:00
Wednesday: 09:00 – 18:00
Thursday: 09:00 – 18:00
Friday: 09:00 – 18:00
Saturday: 09:00 – 18:00
Sunday: 09:00 – 18:00

Metro: line 3– Station: Ferenciek tere


Váci Street (0 m)
University Church (240 m)
Serbian Church (300 m)
Inner City Parish Church (350 m)
Ferenciek Square (400 m)
Inner City Franciscan Church (400 m)
Paris Courtyard (450 m)