Central Market Hall
Great Market Hall, Budapest: the largest and oldest indoor market in Budapest - fruits, vegetables, meats, cheeses
One of the most beautiful buildings in Budapest is the Central Market Hall, situated on the Pest side on Fővám tér. According to its main architect, Samu Petz "a beautiful building must be both harmonious and useful" – and he came very close to perfection with this piece of work. The ventilation caps and chimney pots of the roof are made of Zsolnay pyrogranite.
Upon stepping into the building, where selling started in February 1897, its sheer size and train station-like interior are amazing, but what really catches the eye is the number of people constantly moving around from stall to stall, to buy fresh goods, directly from the producer.
The first floor of the market has mainly foodstuffs on offer, and the second floor has traditional Hungarian folk art items and other typical products of Hungarian origin on sale. In the basement, a huge modern supermarket was opened in the 1990-s.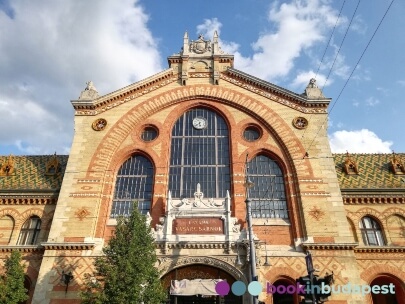 1093 Budapest, Vámház körút 1-3

-

Monday: 06:00 - 17:00
Tuesday: 06:00 - 18:00
Wednesday: 06:00 - 18:00
Thursday: 06:00 - 18:00
Friday: 06:00 - 18:00
Saturday: 06:00 - 15:00
Sunday: Closed

Metro: line 4 - Station: Fővám tér
Tram: Nr 47-49 - Stop: Fővám tér


Main Customs House (80 m)
Liberty Bridge (260 m)
Gellért Thermal Bath (550 m)
Hungarian National Museum (600m)
Museum of Applied Arts (850 m)
Citadel (1100m)
Rudas Thermal Bath (1100 m)
Elisabeth Bridge (1100 m)