Liberty Bridge Budapest
Liberty Bridge, Szabadság híd: The third and shortest bridge of Budapest
Liberty Bridge is the third and shortest bridge of Budapest. It was built for the Millennium World Exhibition in 1896, its original name being Francis Joseph Bridge.
Constructed in just 2 years, between 1894 and 1896, the bridge was originally named after Austrian Emperor Franz Joseph. At a first glance, the structure resembles a chain-type bridge, as per the trends of the age in which it was built, but its core structure is radically different.
As Liberty Bridge is the shortest bridge in Budapest, you can easily walk across it over the Danube in a couple of minutes.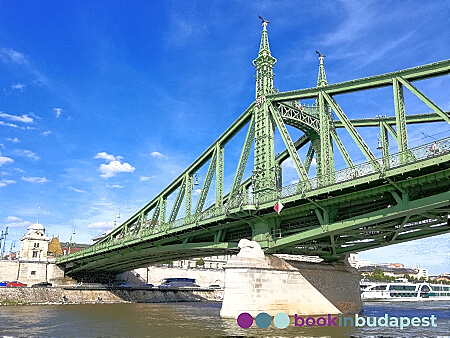 1056 Budapest, Szabadság híd

Metro: line 4 - Station: Gellért tér, Fővám tér
Tram: Nr 47-49 - Stop: Fővám tér


Central Market Hall (280m)
Gellért Thermal Bath (300 m)
Ráday Street (650 m)
Statue of Liberty (800m)
Gellért Hill (900 m)
Hungarian National Museum (900 m)