Liberty Statue Budapest
Liberty Statue: Minimalist statue, erected in 1947, commemorating those who lost their lives for the country
The 36-meter tall Liberty Statue was originally built in commemoration of Budapest's 1945 Soviet liberation from under Nazi rule. It was designed by Kisfaludy Stróbl Zsigmond. The statue of Liberty was built in 1947, but the decision to erect it was born as early as January 1945, within just weeks following the liberation of the city, and a separate law was passed by the Parliament, ordering its construction, in September 1945.
The Statue Liberty on top of the 235-metre-high Gellért Hill dominates the skyline of Budapest. There were quite a few changes made to it after the change of the regime in 1990: the huge statue of the Soviet soldier, stylishly holding a machine gun, was ousted to the Statue Park, where all Communist statues were exiled. Moreover, the Cyrillic script which glorified the "Soviet heroes" was promptly removed, along with the list of names of Russian war casualties, to be replaced by the text "To the memory of all of those who sacrificed their lives for the independence, freedom, and success of Hungary." The nicest one of the side-statues is the figure killing a dragon that represents Fascism.
The Mayor's Office originally planned for the statue to be built in the much less significant Haydn Park in Buda, and the planned height was to be just 8-10 metres. However, Soviet Marshall Voroshilov, who was in charge of post-war Hungary following the liberation of Budapest, has objected, and has chosen the Gellért Hill location personally.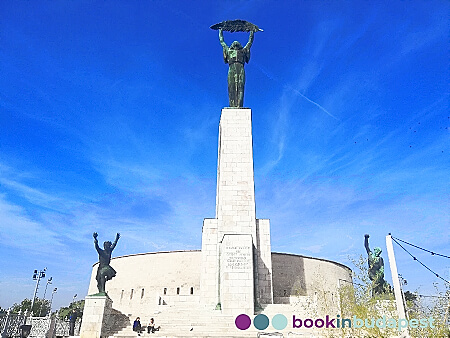 1118 Budapest, Gellérthegy

Best time to visit: after sunset for the view of Budapest. 

Bus: Nr 27 – Stop: Rezeda utca


Gellért Hill (0 m)
Citadel (26 m)
Gellért Thermal Bath (650 m)
Liberty Bridge (800 m)
Rudas Thermal Bath (950 m)
Castle Garden Bazaar (1300 m)
Royal Palace in Buda Castle (2300 m)