Castle Garden Bazaar
Várkert Bazár: arcaded shops and Baroque gardens at the foot of the Castle
The Castle Garden Bazaar was designed by Miklós Ybl and it was built between 1875 and 1883. The building complex, which was built to please Elisabeth, Queen of Hungary, is a high priority monument and has been a registered World Heritage Site since 1987.
In the middle of the Castle Bazaar there used to be a six-meter-high arcaded row of shops, on both sides of it the royal guards and the serving staff were housed in three residential buildings and the complex also accommodated the studios of some prominent artists. Leó Fessler and Adolf Huszár made their sculptures, while Mór Than and Róbert Scholz painted their wall murals here.
The Castle Bazaar started deteriorating at the beginning of the last century and it was severely damaged during the Second World War, by 1996 it was already listed as one of the hundred most endangered national monuments of the world.
The restored building complex has preserved the façade designed by Miklós Ybl, while the new spaces were restored in accordance with modern architectural plans. Next to the Water Carrier's stairway a moving pavement will be built, linking the previously separated Castle to the riverbank of the Danube, thus making it possible to walk around the palace. In the halls of the northern row of shops, an area for commerce has been created where the so-called hungaricum products may be purchased. The northern Guards' Palace accommodates exhibition rooms and a performance hall. The northern courtyard has been designed to serve as a community space and as a venue for open air cultural events.
Among the royal gardens created on the garden terrace of the Castle Bazaar, there will be a Baroque, a Neo-Baroque, a Neo-Renaissance garden, as well as an English landscape, an ecclesiastical symbol and a secular garden.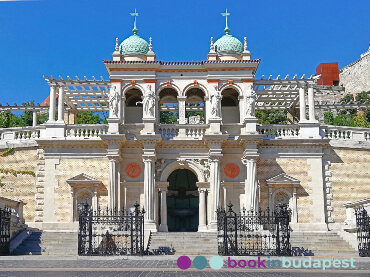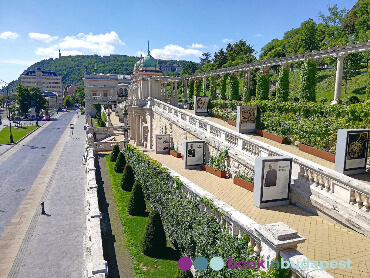 1013 Budapest, Ybl Miklós tér

The garden: free

Monday: Closed
Tuesday: 10:00 - 18:00
Wednesday: 10:00 - 18:00
Thursday: 10:00 - 18:00
Friday: 10:00 - 18:00
Saturday: 10:00 - 18:00
Sunday: 10:00 - 18:00

Tram: line 19 - Stop Várkert Bazár


Buda Castle Funicular (800 m)
Chain Bridge (900 m)
Elisabeth Bridge (800 m)
Rudas Thermal Bath (900 m)
Váci street (1300 m)
Gellért Thermal Bath (1400 m)