Buda Castle Funicular
Budapest Funicular: 19th century nostalgia cable car which take you from the Chain Bridge up to the top of the Castle Hill.
The Buda Castle Funicular is a special pendulum-type funicular railway whose lower station is located at Clark Ádám tér, and the upper station is between the Sándor Palace and the Buda Castle. As a part of the view of the Danube embankments, it is a UNESCO World Heritage site.
The Funicular was inaugurated in 1870, and it had a major role in the Buda Castle's traffic, as public buses were only in operation from 1928. The original steam engine which operated the Funicular was located underneath the lower station. In World War II, the structure took heavy damage from aerial bombing: the upper station was hit, along with one of the cars. During the course of the full renovation in 1985, an electric engine beneath the upper station replaced the original steam engine. Nowadays, the Funicular carries about 750,000 passengers annually.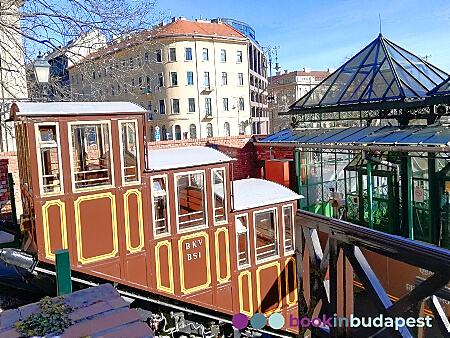 Clark Ádám tér – Szent György tér

Adults: Return HUF 3000
Child (3-14): Return HUF 2000

Monday: 08:00 - 22:00
Tuesday: 08:00 - 22:00
Wednesday: 08:00 - 22:00
Thursday: 08:00 - 22:00
Friday: 08:00 - 22:00
Saturday: 08:00 - 22:00
Sunday: 08:00 - 22:00

Bus: 16, 105 - Stop: Clark Ádám tér


Chain Bridge (120m)
Castle Garden Bazaar (400 m)
Hungarian Academy of Sciences (700 m)
Gresham Palace (810 m)
Upper station:
Hungarian National Gallery (77 m)
Budapest History Museum (80m)
Royal Palace in Buda Castle (110 m)