Gresham Palace
Gresham Palace, Budapest: An outstanding piece of Hungarian Art Nouveau architecture
The Gresham Palace, built in 1906 in Art Nouveau style, is located on Széchenyi István Square in Budapest, directly facing the Chain Bridge. The sculptures were formed by Miklós Ligeti, Géza Maróti and Ede Telcs, the stain glass windows and mosaics are Mika Róth's work.
The ceramic inlays and decorations were made at the renowned Zsolnay factory. The wrought iron elements were made by Gyula Jungfer.
Now the building operates as a luxury hotel.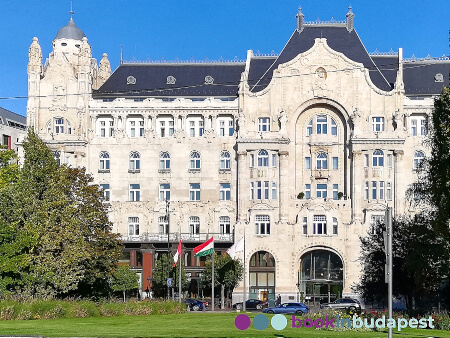 1051 Budapest, Széchenyi István tér 5-6

Tram: Nr 2 – Stop: Széchenyi István tér


Hungarian Academy of Sciences (200 m)
Chain Bridge (450 m)
Pesti Vigado (500 m)
St. Stephen's Basilica (550 m)
Váci street (600 m)
Buda Castle Funicular (850 m)
Royal Palace in Buda Castle (1300 m)