Ráday Street Budapest
Ráday Street, Budapest: A street lined with bars, restaurants and galleries.
The former main street of the historical Ferencváros district in Pest, the Ráday Street  has seen amazing development in the past 20 years. Ráday utca connects busy Pest square Kálvin tér with the southern part of the Grand Boulevard. Cafés, restaurants, bookshops and snack bars have popped up like mushrooms after the rain around Kálvin tér, and the street has been partially turned into a pedestrian-only street recently.
From late afternoons onwards, the place has an atmosphere compared to the Quartier Latin in Paris, due to several university dorms and schools in the vicinity. A great plus is that here you will find more Hungarians than tourists here.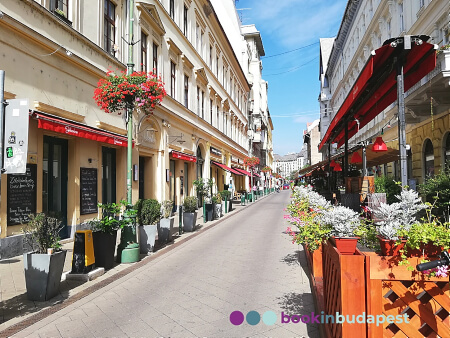 1092 Budapest, Ráday utca

Free

Best time to visit: late afternoon or evening

Metro: line M4 – Station: Kálvin tér
Metro: line M3 – Station: Kálvin tér


Hungarian National Museum (350 m)
Central Market Hall (500m)
Liberty Bridge (750 m)
Gellért Thermal Bath (1000 m)
Museum of Applied Arts (650m)