Main Customs House
Main Customs House, Corvinus University: Neo-Renaissance palace with 22 allegorical statues
The former Main Customs House, today Corvinus University, is located on the Danube Bank next to the Liberty Bridge.
The building was built between 1870 and 1874 to serve the customs clearance and administrative tasks of goods arriving in Budapest. The designer was Miklós Ybl.
The façade is decorated with 22 sculptures depicting figures from Greco-Roman mythology and Hungarian occupations.
During World War II, the building was damaged. In 1950, Corvinus University moved within its walls.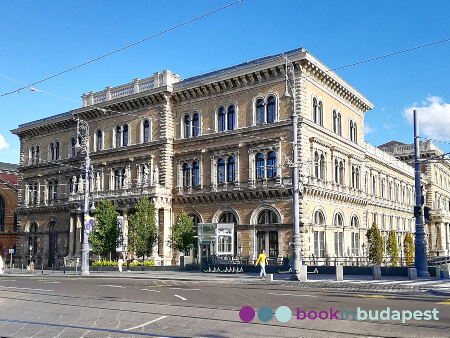 1093 Budapest, Fővám tér 8

Metro: line 4 - Station: Fővám tér
Tram: Nr 47-49 - Stop: Fővám tér


Liberty Bridge (260 m)
Gellért Thermal Bath (550 m)
Hungarian National Museum (600m)
Museum of Applied Arts (850 m)
Citadel (1100m)
Rudas Thermal Bath (1100 m)
Elisabeth Bridge (1100 m)