Erzsébet Square
Erzsébet Square: Huge, popular park in the city centre
Erzsébet Square and the adjoining Deák Square are very popular parks in the heart of the city.
The area around the square began to be designed in the 18th century. By the end of the 19th century, elegant buildings had been built around the park. In 1858, the square was given its current name in honour of the Empress of the Austro-Hungarian monarch, Franz Josef, the wife of the Bavarian Elisabeth (Sisi Princess).
Sights of Erzsébet Square: The park in the square has a small playground and a skating park also attracts many young people. Above the green of the park stands a ferris wheel. The central building of the square used to be a bus station, today there are restaurants and bars here.
In the eastern part of the square is the underground "Aquarium" club. The fountain at the top of the club is a popular meeting point in the evenings.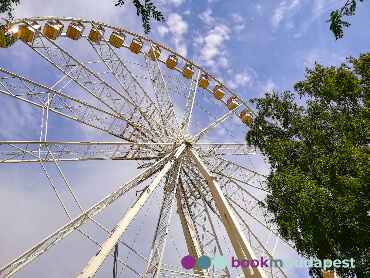 1052 Budapest, Erzsébet tér

Metro: line 1, 2, 3 - Stop: Deák tér


Millenium Underground Museum (200 m)
József Nádor Square (220 m)
Vörösmarty Square (250 m)
Váci Street (300 m)
Szervita Square (400 m)
Downtown St. Anne's Church (400 m)