György Ráth Villa
György Ráth Villa: the exhibition of the most significant pieces of the Art Nouveau collection of the Museum of Applied Arts
György Ráth Villa is located in the Városliget alley.
The eclectic style villa was built in 1880. The first director of the Museum of Applied Arts, György Ráth, remodeled it in Art Nouveau style in 1901 and arranged it with his own collection.
In 1906, using the materials of the collection, a museum was established in the building.
The bourgeois apartment presents the most beautiful pieces of Art Nouveau applied art.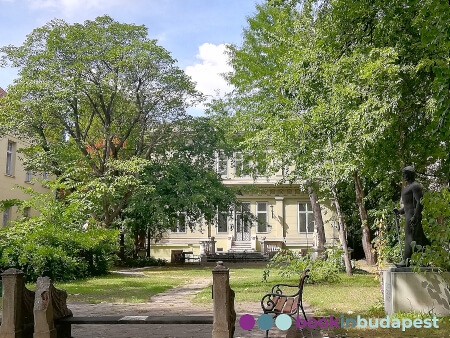 1068 Budapest, Városligeti fasor 12

Adults: HUF 3200,
Students, Seniors: HUF 1600

Monday: Closed
Tuesday: 10:00 - 18:00
Wednesday: 10:00 - 18:00
Thursday: 10:00 - 18:00
Friday: 10:00 - 18:00
Saturday: 10:00 - 18:00
Sunday: 10:00 - 18:00

Metro: line 1 – Stop: Kodály körönd


Fasori Reformed Church (210 m)
Andrássy Avenue (350 m)
Kodály Körönd (450 m)
Ferenc Hopp Museum of Asiatic Arts (450 m)
Museum of Ethnography (600 m)
Museum of Contemporary Art (900 m)
Heroes' Square (900 m)