Heroes' Square Budapest
Heroes' Square: Part of UNESCO World Heritage site with landmark statues
Heroes' Square, where Andrássy Avenue meets Dózsa György út, is the biggest and most impressive square of Budapest. In the middle stands the Millennium Monument, with Archangel Gabriel on top, holding the double cross of Christianity and the Holy Hungarian Crown.
It was constructed to mark the 1000th anniversary of the arrival of the Magyar tribes. The pedestal below is occupied by the ornate horseback statues of the seven Hungarian leaders who led the Hungarian nation into the Carpathian Basin in 896 AD.
The left side of the Heroes' Square is bordered by the Museum of Fine Arts, which holds the world's second largest collection of Spanish Art, on the right side is the Art Hall, giving home to temporary exhibitions in Budapest. Behind Heroes' Square, the City Park Lake is perfect for boating in the summer, and ice-skating in the wintertime (the ice is artificial and of good quality).
The entertainment and cultural facilities of the City Park (Budapest Zoo, Municipal Circus, Vajdahunyad Castle, the Museum of Agriculture and the Széchenyi Thermal Bath) are among the most popular tourist sights in Budapest.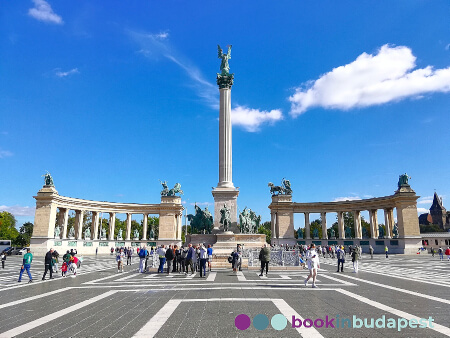 1146 Budapest, Hősök tere



Metro: line 1 - Stop: Hősök tere


Millennium Monument (0 m)
Gundel Restaurant (300 m)
Budapest Zoo (350 m)
Széchenyi Thermal Bath (450 m)
Vajdahunyad Castle (450 m)
Agricultural Museum (450 m)
Museum of Ethnography (550 m)