Museum of Fine Arts
Museum of Fine Arts, Budapest: Raphael, El Greco, Van Dyck, Dürer in a neoclassical building
The Hungary's premier gallery of art from early times until the end of the 18th century is on display in a stately neo-Classical Museum of Fine Arts at Heroes' Square. The gallery began with a collection donated by Archbishop Pyrker of Eger and an extensive art collection purchased by the State in the 1870's from the Esterházy family.
Today, as well as Egyptian, Roman and Greek exhibits there is a particularly fine collection of Italian art, affording a comprehensive survey of the various schools of painting from the twelfth to the eighteenth centuries.
The Spanish collection includes no fewer than seven masterpieces by El Greco.
Permanent exhibitions:
Basement level - Egyptian Art, Classical Antiquities
Ground floor - Renaissance Hall, Romanesque Hall
1st floor - European Art 1250–1600
2nd floor - European Sculpture 1350–1800
3rd floor - Art in Hungary 1600–1800
The collection of the International Art after 1800 was moved to the Hungarian National Gallery.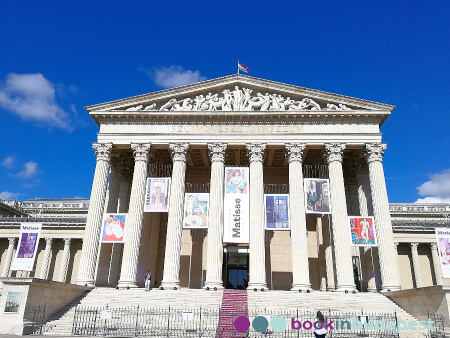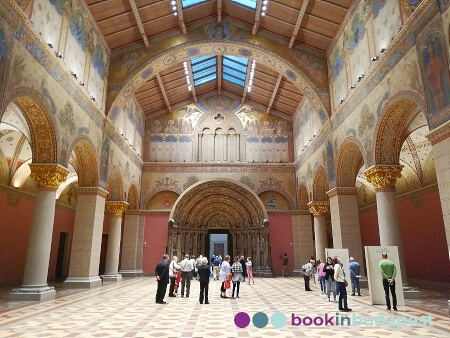 1146 Budapest, Dózsa György út 41

Permanent exhibitions:
Adults: HUF 3400, Students, Seniors from EU: HUF 1700

Monday: Closed
Tuesday: 10:00 - 18:00
Wednesday: 10:00 - 18:00
Thursday: 10:00 - 18:00
Friday: 10:00 - 18:00
Saturday: 10:00 - 18:00
Sunday: 10:00 - 18:00

Metro: line 1 – Stop: Hősök tere


Heroes' Square (40 m)
Gundel Restaurant (250 m)
Budapest Zoo (300 m)
Széchenyi Thermal Bath (550 m)
Vajdahunyad Castle (550 m)
Agricultural Museum (550 m)
Museum of Ethnography (550 m)