Millennium Monument
Millennium Monument, Budapest: Iconic statue complex featuring the Seven Chieftains of the Magyars and other important national leaders
The construction of the Millennium Monument began on the 1000th anniversary of the Hungarian Conquest of the Carpathian Basin, in 1896, and it was completed by 1906 – with the exception of the Monument of Heroes, which was built only in 1929. It is the central theme of Heroes' Square.
The Monument and the two museums on the right and left side of the square – Museum of Fine Arts and the Art Hall, respectively – were designed by architect Albert Schikedanz and sculptor György Zala. This resulted in a unique architectural unison, enhanced by perfect symmetry with Andrássy Avenue.
In the middle of the composition, on a 36-metre column stands the bronze statue of the Archangel Gabriel, who, according to the legend, has appeared in a dream to St. Stephen, the Hungarian state founder, and offered him the Holy Crown of Hungary. On the pedestal, surrounding the column, stand the statues of the seven leaders, or chieftains of the once nomadic Hungarians. In perfect line with the axis of Andrássy út is the statue of Árpád; on his right are Előd, Huba and Tas, and on his left are Ond, Kond and Tétény leaders.
Directly in front of the pedestal is the Monument of Heroes, inaugurated by Governor Miklós Horthy in 1929. Although the creators must have been influenced by the high number of victims in World War I, it is neither a real soldier's grave, nor a world war monument. The original stonework was damaged in World War II, and the post-war Communist regime that came to power had it removed, along with the Habsburg kings' statues, which were deemed undesirable. It was restored in the spring of 1956, but the Habsburg statues never came back.
The two-winged semi-circular pantheon is filled with 7-7 statues of Hungarian leaders, kings and governors. On the top of the pantheons four allegoric bronze statues stand. Facing each other, the two chariots of War and Peace; on the far left the Work and Welfare, and on the far right Knowledge and Glory. The statues and embossments reflect to nearly all important landmarks of Hungarian history. The left side pantheon holds the statues of kings Stephen I, Ladislaus I, Coloman of Hungary, Andrew II, Béla IV, Charles I and Louis I. The right side one has the statues of János Hunyadi, Matthias Corvinus of Hungary, István Bocskay, Gabriel Bethlen, Imre Thököly, Francis II Rákóczi Lajos Kossuth.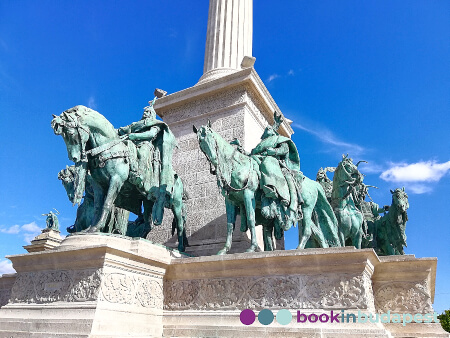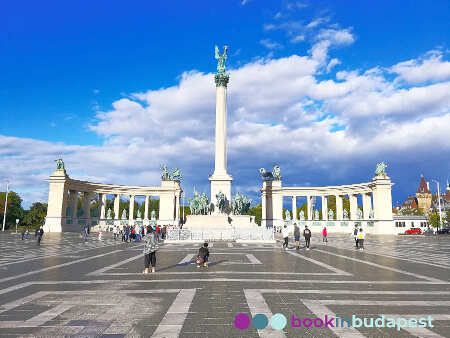 1146 Budapest, Hősök tere

Metro: line 1 – Stop: Hősök tere


Heroes' Square (0 m)
Gundel Restaurant (300 m)
Budapest Zoo (350 m)
Széchenyi Thermal Bath (450 m)
Vajdahunyad Castle (450 m)
Agricultural Museum (450 m)
Museum of Ethnography (500 m)