Margaret Island
Margaret Island Budapest: the green heart of Budapest
The Margaret Island is a pedestrianized recreational island in Budapest. Margaret Island located on a 2,5 km-long central Island on the Danube, the historical Margaret Island is a special landmark of Budapest. It was a wise decision from the city fathers of Budapest to ban all motorized traffic on this island (except for a single bus line and police cars), as it is the primary place of recreation in Budapest.
Complete with an outdoor summer thermal spa, and a professional swimming pool, the island also features a small wildlife park, the ruins of a 13th century Dominican cloister, a Japanese garden with sunbathing turtles, an 5 km-long professional jogging circle along the sides of the island, several nice restaurants, two luxury thermal hotels and a rose garden.
Cyclists, in winter and summer, appreciate the car-free and oxygen-rich environment too, as well as families with children. When the weather is hot, scores of people lay around the biggest fountain of Budapest, which plays pleasant music every 30 minutes.
The island is bordered by the Margaret Bridge from the south, and by Budapest's longest bridge, the Árpád Bridge from the north.
Best things to do on Margaret Island, Top attractions of Margaret Island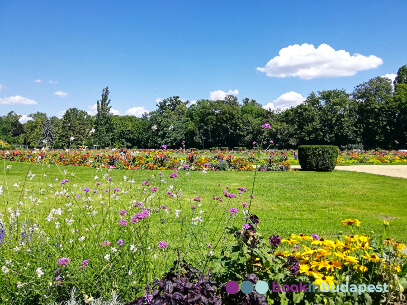 1138 Budapest, Margitsziget

Tram: Nr 4-6 – Stop: Margitsziget


Margaret Bridge (100 m)
Tomb of Gül Baba (1100 m)
Palace of Justice (1400 m)
Nyugati Railway Station (1400 m)
Hungarian Parliament (1500 m)
St. Stephen's Basilica (2300 m)
Chain Bridge (2600 m)