Parliament Budapest
Hungarian Parliament Building: The world's third largest Parliament building
The Hungarian Parliament is the seat of the National Assembly, one of the most beautiful and ancient legislative buildings of Europe and the third largest Parliament building in the world. The National Assembly has decided on its construction in the year 1880, nearly a decade and a half after the Compromise with the Habsburg rulers. The winning plan was submitted by Imre Steindl, a professor of the Technical University in Budapest, and construction started in 1885.
The Parliament building was inaugurated in 1896, in the year which marked the 1000thanniversary of the Hungarian conquest of the Carpathian Basin, but the building was only fully completed in 1904. Over a thousand people have worked on the construction, and they used 40 million bricks, over half a million pieces of specially carved limestone and 40 kilograms of 22-23 carat cold. The exterior ornaments of the Parliament were made of soft limestone from Sóskút, which unfortunately proved less durable than desired, and deterioration was fast. Therefore, during the course of the renovations – which are performed nowadays too – a different type of limestone, the so-called "Süttői" has been used. Due to the large surfaces and the exquisite exterior detail, one part or another of the Parliament is always under renovation. It represents an architectural style known as Gothic Revival, and one doesn't have to look further than the Westminster Palace in London to find another perfect example.
The Hungarian Parliament has a symmetrical structure, and a large dome, which is quite unusual in a Gothic structure. Its length is 268 metres, and it's 123 metres wide. The total number of its richly ornamented rooms is 691, out of which over two hundred are offices. Its 96-metre height bears a symbolic meaning: it refers to the year 896, when the Hungarians had conquered the Carpathian Basin. There are 90 exterior and 152 interior statues in the building.
The facade of the Parliament faces the river Danube, but the official main entrance is on the opposite side on Kossuth tér. The grand staircase leading to the main entrance is guarded by two stone lions. The central assembly hall is directly underneath the dome. Until 1945, the Parliament used to have a Lower and an Upper House (today's parliamentary system is unicameral, and sessions are held in the Lower Assembly Hall).
During the Communist dictatorship, a large pentagonal red star occupied the top of the steeple on the dome of the Parliament, which was lit up at night. It was removed in 1990 after the change of the regime.
Please be advised that from 1 July 2014 the entry point for Parliament visitors is in the Visitor Center at the end of Balassi Bálint Street.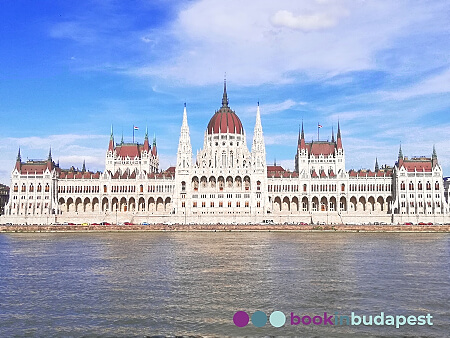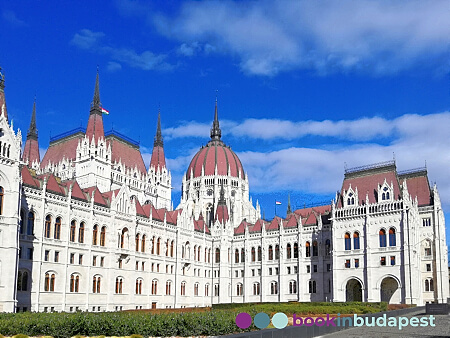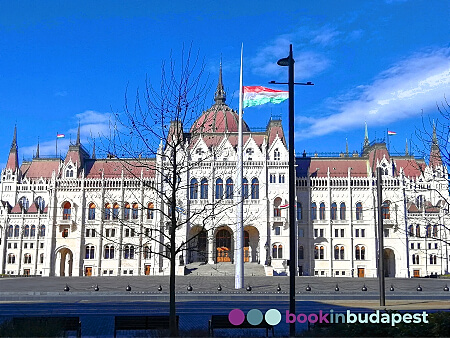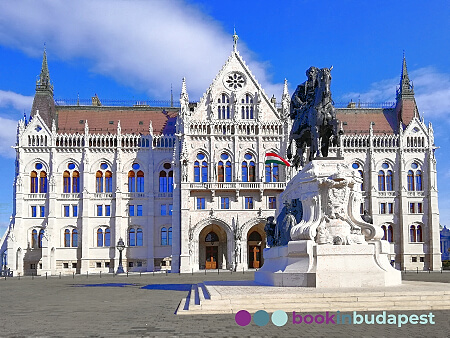 1055 Budapest, Kossuth Lajos tér 1-3

Adults: HUF 10000, EU citizens: HUF 5000
Students, Seniors: HUF 5000, from EU: HUF 2500

Visits to the Parliament are only permitted in organized groups. A tour takes approximately 45 minutes.
Guided tours in Parliament in English: 10.00, 12.00, 13.00, 14.00, 15.00

Metro: line 2 - Station: Kossuth Lajos tér
Tram: Nr 2 - Stop: Kossuth Lajos tér


Trianon Memorial (130 m)
Palace of Justice (170 m)
Shoes on the Danube (400 m)
House of Hungarian Art Nouveau (450 m)
Hungarian Academy of Sciences (750 m)
Gresham Palace (850 m)
Nyugati Railway Station (1100 m)
Margaret Bridge (1200 m)