Shoes on the Danube Bank Embankment
Shoes on the Danube Bank Embankment: On the banks of the Danube sit sixty pairs of old-fashioned shoes
The "Shoes on the Danube Bank Embankment" monument honours the Jewish victims that were shot into the Danube by the Arrow Cross militiamen in Budapest, 1944-1945.
This world-famous composition was created by Gyula Pauer and Can Togay, is a memorial on the bank of the Danube in Budapest, which comprises 60 pairs of metal shoes set in concrete on the Danube embankment, was set up in the year 2005. It commemorates the Hungarian Jewish victims of the killings committed by the Arrow Cross militiamen, the pro-German, anti-Semitic, national socialist party members of Hungary in 1944-1945.
The killings usually took place en masse – the victims were lined up at the embankment, and shot into the Danube, execution-style. At three separate places of the memorial, cast iron signs read in Hungarian, English and Hebrew: "To the memory of victims shot into the Danube by Arrow Cross militiamen in 1944-45″. This is a very simple but very moving memorial.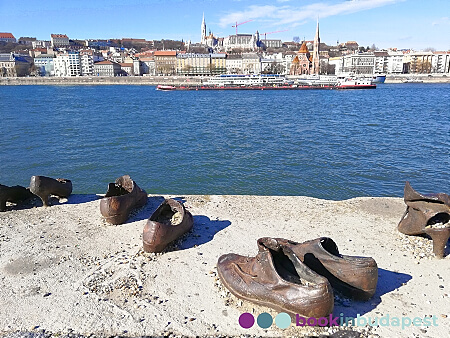 1052 Budapest, Idősebb Antall József rakpart

Metro: line 2 – Station: Kossuth Lajos tér


Hungarian Parliament (600 m)
Palace of Justice (700 m)
Chain Bridge (1000 m)
St. Stephen's Basilica (1300 m)
Nyugati Railway Station (1600 m)
Margaret Island (1900 m)
Tomb of Gül Baba (2300 m)