Nyugati Railway Station
Nyugati Railway Station, Budapest: Built by the Eiffel Company of Paris
Budapest Nyugati Railway Station, is one of the three main railway terminals in Budapest, Hungary. It lies at the intersection of Grand Boulevard and Váci Avenue. The first railway line of Hungary was built in 1846 between the city of Vác in the North and Budapest. The Budapest terminal used to stand where the building of Nyugati Railway Station stands today, which was only completed in 1877. The large iron structure was built by the Paris-based Eiffel Company, which became world famous following the construction of the Eiffel Tower in Paris.
In 1980, during the construction works of Metro line # 3, a system of underpasses was built next to, and partially under the building. In 1999, the largest commercial mall of Hungary was built right next to the train station, and tracks 1-9 were given a protective roof.
Adjacent to the railway station is the WestEnd City Center, central Europe's largest shopping center, with over 400 stores.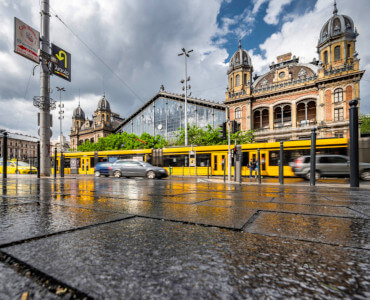 1062 Budapest, Teréz körút 55.


Daily 02:30 -00:50

Metro: line 3- Station: Nyugati Pályaudvar
Tram: Nr 4, 6- Stop: Nyugati Pályaudvar


Museum of Ethnography (850m)
House of Terror Museum (1100 m)
Hungarian Parliament (1100 m)
Margaret Bridge (1200 m)
Kodály Körönd (1500 m)
Margaret Island (2000 m)
Museum of Fine Arts (2200m)