Musical Fountain on Margaret Island
Margaret Island Musical Fountain: huge fountain on the Margaret Island with spectacular light show
This outstanding fountain on Margaret Island is considered to be one of the largest in Europe. The musical fountain sets hourly music shows, and a light show at night.
The fountain opened in 1962. At first there was live music at the fountain. It was later electronized.
It gained its present form during the 2013 renovation.
The fountain jets water up to 10 meters high, in the evenings 250 energy saving LEDs provide moodlighting around the 35 meter diameter pool - containing 400 cubic meters of water, and a more than 1000 square meters water surface.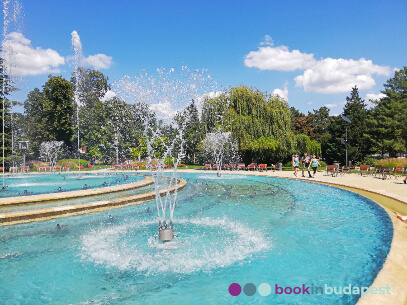 1138 Budapest, Margitsziget

FREE

From May till October:
Every hour between 10:00 and 22:00

Tram: Nr 4-6 – Stop: Margitsziget


Palatinus Bath (1000 m)
Margaret Island Mini Zoo (950 m)
Margaret Island Water Tower (1400 m)
Franciscan Monastery (700 m)
Japanese Garden (1800 m)
Bodor musical well (1900 m)
Margaret Bridge (450 m)