Palatinus Bath on Margaret Island
Palatinus Strand Bath: Spacious bath complex offering indoor and outdoor thermal baths, wave pool, swimming pools, water slides
Palatinus Bath on the Margaret Island operated since 1919 has got 11 pools: the iconic wave pool built in 1937, several giants slides, and thermal pools. The open air baths operate all year long.
The Palatinus Bath was opened as a beach o­n the bank of the Danube in 1919. The large pool was constructed in 1921, and transformed into an open-air bath. At the time Palatinus had the largest pool in all of Europe.
It quickly become very popular, and had to be expanded. In 1937, the bath had to be expanded with a Bauhaus-style main building. Its pools are supplied by the thermal springs of the Margaret Island.
In 2017 the bath has been expanded with four covered pools that can be used during all year long. The Palatinus spa, open air bath and wave bath, now open all year round with 15 pools, offers a colorful range of spa and wellness treatments.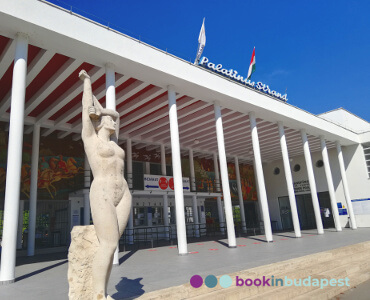 1003 Budapest, Soó Rezső stny. 1, Margitsziget

2900 HUF / 3400 HUF

Monday: 08:00 - 20:00
Tuesday: 08:00 - 20:00
Wednesday: 08:00 - 20:00
Thursday: 08:00 - 20:00
Friday: 08:00 - 20:00
Saturday: 08:00 - 20:00
Sunday: 08:00 - 20:00

Bus: Nr 26 – Stop: Palatinus fürdő


Margaret Bridge (100 m)
Tomb of Gül Baba (1100 m)
Museum of Ethnography (1400 m)
Nyugati Railway Station (1400 m)
Hungarian Parliament (1500 m)
St. Stephen's Basilica (2300 m)
Chain Bridge (2600 m)