Margaret Island Water Tower
Margaret Island Water Tower: Lookout tower on Margaret Island
The octagonal water tower rises 57 m above the Margaret Island, and located in the middle of the island. The water tower was built in 1913, based on a design by architect Zielinski Szilárd.
It built in Art Nouveau style, today functioning as a lookout tower and houses exhibitions.
The lookout point can be reached by climbing 152 steps. The tower offers a fine 360-degree view of the city and the Buda Hills.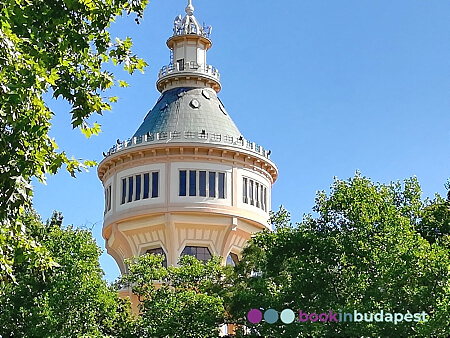 1138 Budapest, Margitsziget

FREE

Form May till Sept:
Monday: Closed
Tuesday: 11:00 - 19:00
Wednesday: 11:00 - 19:00
Thursday: 11:00 - 19:00
Friday: 11:00 - 19:00
Saturday: 11:00 - 19:00
Sunday: 11:00 -19:00

Tram: Nr 4-6 – Stop: Margitsziget


Margaret Bridge (100 m)
Tomb of Gül Baba (1100 m)
Museum of Ethnography (1400 m)
Nyugati Railway Station (1400 m)
Hungarian Parliament (1500 m)
St. Stephen's Basilica (2300 m)
Chain Bridge (2600 m)