Holy Trinity Square
Holy Trinity Square: the centre of the Buda Castle District and one of the most beautiful squares in the city
Trinity Square is located in front of the Matthias Church in the centre of the Buda Castle District.
Until the siege of Buda in 1686, residential buildings stood on the site of the square. During the fighting, the houses were destroyed, and in their place they formed the present-day space.
Another transformation of the square took place at the end of the 19th century at the same time as the transformation of the Matthias Church.
The statue of the Holy Trinity in the middle of the square was erected in 1706 to commemorate the plague of 1691. The statue of St. Stephen in front of Fisherman's Bastion is the work of Alajos Stróbl and was erected in 1906.
Things to do on Holy Trinity Square, Top attractions of Holy Trinity Square:
Royal Hungarian Ministry of Finance
Old Town Hall in Buda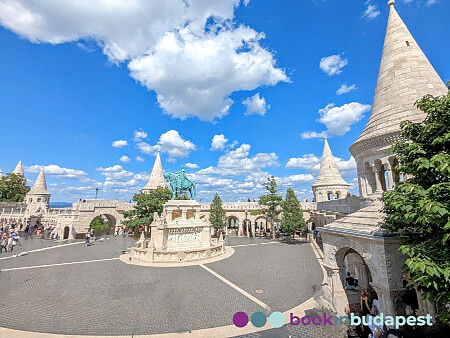 1014 Budapest, Szentháromság tér

Bus: 16 - Stop: Szentháromság tér


Matthias Church (0 m)
Statue of St. Stephen (0 m)
Fisherman's Bastion (0 m)
Hospital in the Rock Museum (290 m)
Medieval Synagogue of Budapest (400 m)
Lutheran Church of Budavár (450 m)