Fisherman's Bastion
Fisherman's Bastion: Large complex of the white towers, and terrace with one of the best panorama of Budapest. The Fisherman's Bastion was built in the 19th century in neoclassical style.
The Fisherman's Bastion was built simultaneously with the last major renovation of the Matthias Church, between 1890 and 1905. The Fisherman's Bastion has seven turrets, each symbolizing a Hungarian tribal leader. Its foundation is a part of the former medieval fortified defensive wall.
The structure has never served defence purposes, only that of decoration. Its approximate location gave home to a large fish and produce market in the Middle Ages, and in the Water Town directly below the walls, most of the population made a living from fishing – hence the name, paying tribute to the fishermen. Its southern side has a café open in the main tourist season, and the upper level can only be visited after buying a ticket.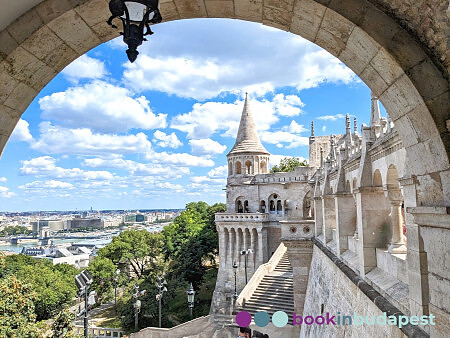 1014 Budapest, Szentháromság tér 5

Adults: HUF 1200,
Students, pensioners from EU: HUF 600

Monday: 09:00 - 20:00
Tuesday: 09:00 - 20:00
Wednesday: 09:00 - 20:00
Thursday: 09:00 - 20:00
Friday: 09:00 - 20:00
Saturday: 09:00 - 20:00
Sunday: 09:00 - 20:00

Bus: 16 - Stop: Szentháromság tér


Matthias Church (10 m)
Military History Museum (550 m)
Royal Palace in Buda Castle (600 m)
Széchényi National Library (600m)
Budapest History Museum (650 m)
Buda Castle Funicular (700 m)
Chain Bridge (800 m)