Hospital in the Rock Museum
Rock Hospital Museum: a former air hospital and nuclear bunker in the depths of the Castle Hill
The Hospital in the Rock Museum is located in the tunnels of Castle Hill of Budapest, the entrance is on Lovas út.
The air defense shelter was established in the tunnels under the Buda Castle in 1937. Between 1941 and 1943, it was converted into a hospital.
Between 1944-45, the hospital treated 300-400 patients a day.
It was converted into an atomic bunker during the Cold War. Until 2002, it was a secret object.
Today there is a museum in the building and we can see exhibitions about the healing work going on here in World War II. It can only be visited on a guided tour.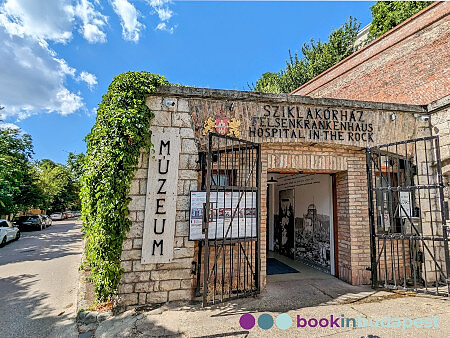 1012 Budapest, Lovas út 4/c

Adults: HUF 7600,
Students, Seniors: HUF 5400

Monday: 10:00 - 18:00
Tuesday: 10:00 - 18:00
Wednesday: 10:00 - 18:00
Thursday: 10:00 - 18:00
Friday: 10:00 - 18:00
Saturday: 10:00 - 18:00
Sunday: 10:00 - 18:00

Bus: 16 - Stop: Szentháromság tér


Holy Trinity Statue (290 m)
Matthias Church (300 m)
Holy Trinity Square (350 m)
Statue of St. Stephen (400 m)
Fisherman's Bastion (450 m)
Mary Magdalene Tower (600 m)
Medieval Synagogue (700 m)