Medieval Jewish Prayer House in Budapest
Medieval Synagogue of Budapest: 15th century synagogue in the Buda Castle District
The Medieval Jewish Prayer House in the Buda Castle is located in Mihály Táncsics Street.
The synagogue was built in 1461, on the ground floor and in the courtyard of the house standing here. During the Turkish occupation, the synagogue was in use throughout. The interior drawings and inscriptions of the building date from the 16th century. The building was destroyed in 1685 during the war against the Turks.
The prayer room was rediscovered in 1964 and restored in 1968.
The building houses an exhibition on the history of Judaism.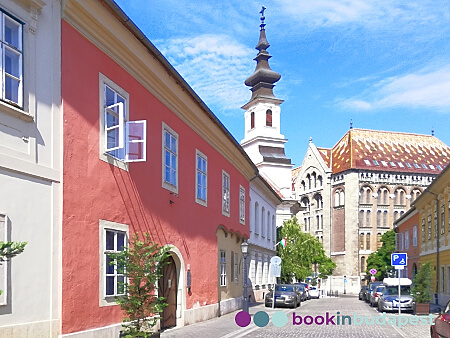 1014 Budapest, Táncsics Mihály u. 26

Adults: HUF 800,
Students, Seniors: HUF 400

Monday: Closed
Tuesday: 10:00 - 18:00
Wednesday: 10:00 - 18:00
Thursday: 10:00 - 18:00
Friday: 10:00 - 17:00
Saturday: Closed
Sunday: 10:00 - 18:00

Bus: 16 - Stop: Bécsi kapu tér


Lutheran Church (30 m)
Military History Museum (190 m)
Mary Magdalene Tower (270 m)
Holy Trinity Square (350 m)
Matthias Church (400 m)
Holy Trinity Statue (400 m)
Statue of St. Stephen (400 m)