Equestrian statue of András Hadik
Equestrian statue of András Hadik: hussar glory on horseback
The statue of András Hadik is located in Úri utca, near the Matthias church.
The statue was made in 1937 by György Vastagh. The sculptor depicts the stallion in rich detail, and András Hadik's uniform is also a splendid example of the baroque style.
András Hadik was an outstanding military leader in the 18th century.
The legend associated with the statue is that touching a certain part of the stallion's body brings good luck. The superstition originates from university students in Budapest.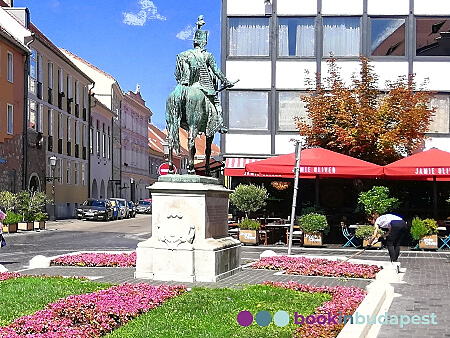 1014 Budapest, Szentháromság tér

Bus: 16 - Stop: Szentháromság tér


Matthias Church (130 m)
Statue of St. Stephen (200 m)
Fisherman's Bastion (220 m)
Hospital in the Rock Museum (200 m)
Medieval Synagogue of Budapest (500 m)
Lutheran Church of Budavár (550 m)
National Archives (600 m)
Buda Castle Labyrinth (140 m)