Electrotechnical Museum
Electrotechnical Museum: a museum presenting the development of lighting and electricity
The exhibitions of the Electrotechnical Collection commemorate the history and development of light and lighting. The neon signs on display in the inner courtyard evoke the face of Budapest in the 1960s.
The imposing Bauhaus-style building on Kazinczy Street was built in 1934. Originally used as a transformer station, it is decorated with art deco stone floors and green glazed Zsolnay tiles.
The "Unusual Physics Class" introduces children to the laws of physics in a playful way.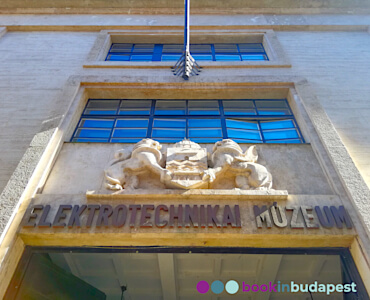 1075 Budapest, Kazinczy utca 21

Closed

Closed

Bus: Nr 5, 7, 8E– Stop: Uránia


Kazinczy Street Synagogue (70m)
Rumbach Street Synagogue (450m)
Dohány Street Synagogue (450m)
St. Teresa of Ávila Parish Church (600 m)
Opera House (700 m)
Franz Liszt Academy of Music (850 m)
Millennium Underground Railway (700 m)
Erzsébet Square (950 m)