Kazinczy Street Synagogue
Kazinczy Street Synagogue: Art Nouveau Orthodox Synagogue built in 1913
The Kazinczy Street Synagogue is located in the middle of the Jewish Quarter, on Kazinczy Street.
The construction of the synagogue took place in 1911-1913. The building was designed by the Löffler brothers.

The building is built in Art Nouveau style, the interior shows Art Nouveau and Art Deco features. The Kazinczy Street Synagogue is the religious and cultural centre of the Orthodox branch of Jewry in Budapest.
During World War II, the building was damaged. It was restored after 1945.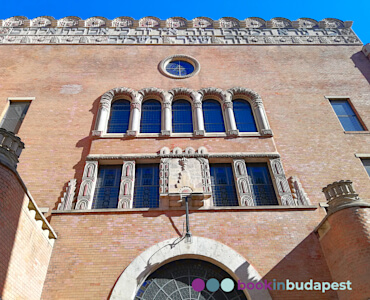 1075 Budapest, Kazinczy u. 29-31

9 €
Skip the line ticket Kazinczy Synagogue

Monday: 10:00 – 18:00
Tuesday: 10:00 – 18:00
Wednesday: 10:00 – 18:00
Thursday: 10:00 – 18:00
Friday: 09:00 – 13:00
Saturday: Closed
Sunday: 10:00 – 18:00

Metro: line 2, 3– Station: Astoria


Electrotechnical Museum (70m)
Rumbach Street Synagogue (400m)
Dohány Street Synagogue (500m)
St. Teresa of Ávila Parish Church (550 m)
Opera House (650 m)
Franz Liszt Academy of Music (750 m)
Millennium Underground Railway (750 m)
Erzsébet Square (850 m)