House of Hungarian Music
House of Hungarian Music: museum, and concert venue in the City Park
The House of Hungarian Music, located in the City Park, next to the Vajdahunyad Castle, The building will seamlessly blend into nature as a continuation of the park itself: the external glass walls and potted roof structure provide channels for natural light to enter.
The building designed by Sou Fujimoto, and built between 2017 and 2022.
The permanent exhibition display the evolution of the Hungarian music. Family friendly exhibitions lead through the music milestones.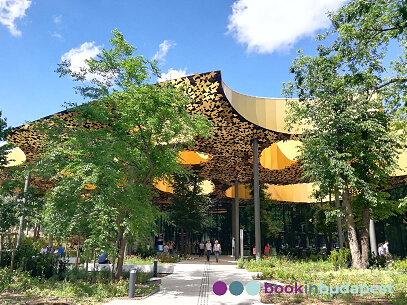 1146 Budapest, Olof Palme stny. 3-5

Adults: HUF 2800, Students, Seniors from EU: HUF 1400

Monday: Closed
Tuesday: 10:00 - 18:00
Wednesday: 10:00 - 18:00
Thursday: 10:00 - 18:00
Friday: 10:00 - 18:00
Saturday: 10:00 - 18:00
Sunday: 10:00 -18:00

Metro: line 1 - Station: Hősök tere


Museum of Ethnography (300 m)
House of the Hungarian Millennium (300 m)
Vajdahunyad Castle (400 m)
Agricultural Museum (400m)
Main Playground (400 m)
City Park Ice Rink (400m)
Museum of Contemporary Art (500 m)