City Park Ice Rink Budapest
Ice-Skating Rink and Lake, Budapest: Outdoor skating rink in park setting
Europe's largest ice-skating rink is located at the edge of the City Park, enclosed between Heroes' Square and Vajdahunyad Castle. This is the second such establishment in Europe, built in 1926, shortly after the construction of the one in Vienna, Austria.
In the wintertime, a continuous, 12,000 m2 large ice surface is generated by special machinery underneath the lake. From spring until autumn, various cultural and recreational events await visitors.
In the summertime, the area is usually filled up with water, and boats can be rented.
Most recently the Ice-Skating Rink and Lake (Városligeti Műjégpálya) was renovated and expanded from 2009 to 2011.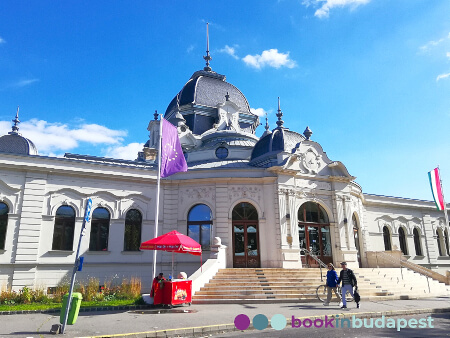 1146 Budapest, Olof Palme sétány 5

Adults: HUF 2500-3500,
Students, Seniors: HUF 2000-2500

From mid November - mid February
Monday: 09:00-13:00, 17:00-21:00
Tuesday: 09:00-13:00, 17:00-21:00
Wednesday: 09:00-13:00, 17:00-21:00
Thursday: 09:00-13:00, 17:00-21:00
Friday: 09:00-13:00, 17:00-21:00
Saturday: 10:00-14:00, 16:00-21:00
Sunday: 10:00-14:00, 16:00-20:00

Metro: line 1 – Stop: Hősök tere


Heroes' Square (40 m)
Gundel Restaurant (350 m)
Budapest Zoo (400 m)
Széchenyi Thermal Bath (500 m)
Vajdahunyad Castle (500 m)
Agricultural Museum (500 m)
Transport Museum (1200 m)