House of the Hungarian Millennium
House of the Hungarian Millennium: exhibition and cultural centre with unique Zsolnay decorations
This is the oldest building in the City Park (or Városliget). And it is one of the most beautiful monuments in the Városliget.
The building was designed by Ferenc Pfaff in 1885. The building was originally planned to be a fine art exhibition venue of the National General Exhibition.
The House of Hungarian Millennium is the most impressive building of the Exhibition, thanks to the Zsolnay ceramics decorations of the facades.
In front of the building lies an impressive Rose Garden with 1500 rose plants. In the middle of the Rose Garden is an impressive Zsolnay Fountain.
The building houses contemporary exhibitions and a restaurant.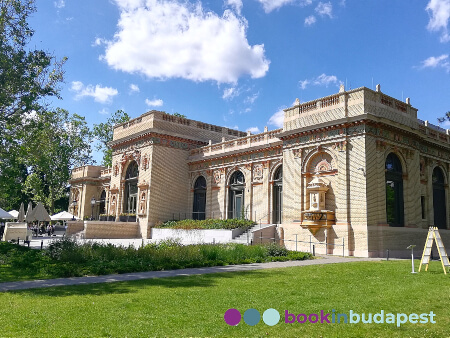 1146 Budapest, Olof Palme sétány 1.

Adults: HUF 1800, Students, Seniors: HUF 900

Monday: Closed
Tuesday: 10:00 - 18:00
Wednesday: 10:00 - 18:00
Thursday: 10:00 - 18:00
Friday: 10:00 - 18:00
Saturday: 10:00 - 18:00
Sunday: 10:00 - 18:00

Metro: line 1 - Stop: Széchenyi fürdő


Budapest Zoo (300 m)
Gundel Restaurant (450 m)
Heroes' Square (450 m)
Vajdahunyad Castle (500 m)
Museum of Fine Arts (550 m)
Museum of Contemporary Art (600 m)