Statue of Imre Nagy
Statue of Imre Nagy: a monument to the hero of the 1956 uprising
The original statue was unveiled in 1996 near Parliament. The monument is the work of Tamás Varga.
Imre Nagy was hanged in 1958 for his role in the uprising. The pro-reform communist sought to free Hungary from hard-line communist rule, but in 1956 the revolution was crushed by Soviet tanks.
In 2019, the nationalist far-right government relocated it to Mari Jászai Square.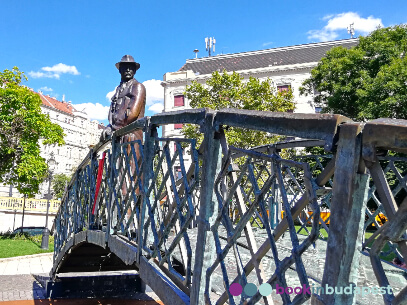 1055 Budapest, Jászai Mari tér

Tram: Nr 4-6 – Stop: Jászai Mari tér


Margaret Island (50 m)
Tomb of Gül Baba (1200 m)
Nyugati Railway Station (750 m)
Palace of Justice (700 m)
Hungarian Parliament (750 m)
Shoes on the Danube (1000 m)
Chain Bridge (1600 m)