St. Anne's Church in Buda
St. Anne's Church in Buda: twin-tower Baroque church, the best example of Italian baroque architecture in Budapest
The St. Anne Parish Church (St. Anne's Church in Upper Watertown) is located on Batthyány Square on the Buda side.
The earliest church in this place dates from 1390, but construction of the current building began in 1740, according to the plans of Kristóf Hamon. The construction of the church was completed in 1761.
In 1763, a severe earthquake damaged the church. The restoration of the church took a long time and was not completed until 1805.
The octagonal interior is richly decorated with paintings, frescoes, and plenty of sculptures. Gregory Vogl's painting above the altar depicts the Trinity.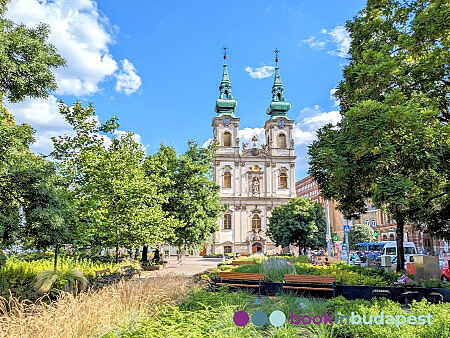 1011 Budapest, Batthyány tér 7

Free of charge

Monday: 10:00 – 18:30
Tuesday: 10:00 – 18:30
Wednesday: 10:00 – 18:30
Thursday: 10:00 – 18:30
Friday: 10:00 – 18:30
Saturday: 10:00 – 18:30
Sunday: 08:30 – 18:30

Metro: line 2 - Station: Batthyány tér


Batthyány Square (0 m)
Batthyány Square Market Hall (0 m)
Church of Stigmatisation of Saint Francis (120 m)
Király Thermal Bath (500 m)
Fisherman's Bastion (800 m)
Chain Bridge (900 m)