Cave Church in the rocks of Gellért Hill
Budapest Cave Church: a unique church carved into the rocks of Gellért Hill
The Budapest Rock Church is located at the foot of Gellért Hill at the Liberty Bridge.
The church overlooks the Gellért Bath and has a great view of the Liberty Bridge and the Danube.
The construction of the church began in 1926 and opened its doors in 1931. The church consists of two parts, one is a natural cave and the other is artificial. The temperature in the cave is 20 ° C all year round. In 1934 it was supplemented with a monastery.
The cave was walled in for political reasons in 1960 and only reopened in 1990.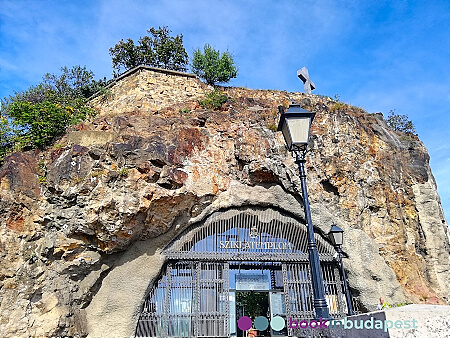 1114 Budapest, Szent Gellért rakpart 1

Adults: HUF 750,
Students, Seniors: HUF 650

Monday: 09:30 - 19:30
Tuesday: 09:30 - 19:30
Wednesday: 09:30 - 19:30
Thursday: 09:30 - 19:30
Friday: 09:30 - 19:30
Saturday: 09:30 - 19:30
Sunday: Closed

Metro: line 4 – Stop: Szent Gellért tér


Gellért Thermal Bath (150 m)
Liberty Bridge (220 m)
Liberty Statue (600 m)
Great Market Hall (650 m)
Citadel (700 m)
Rudas Thermal Bath (750 m)
St. Gellért Monument (950 m)