Buda Castle Tunnel
Buda Castle Tunnel: tunnel under the Buda Castle
The Buda Castle Tunnel connects the bridgehead on the Buda side of the Széchenyi Chain Bridge with the parts of Buda behind the castle.
The plan to build it arose in 1842, due to the easier accessibility of the Chain Bridge, which was already under construction. The designs were made by William Tierney Clark. It was built between 1853 and 1858. Its length is 350 meters.
In the beginning, the roadway was made of wooden blocks and lit by oil lamps. Until 1918, you had to pay to use the tunnel. In 1915, electric lighting was installed in it, and in 1919, the roadway was covered with cobblestones.
A popular photo spot is the terrace at the top of the tunnel, from where you can see the traffic of the Chain Bridge.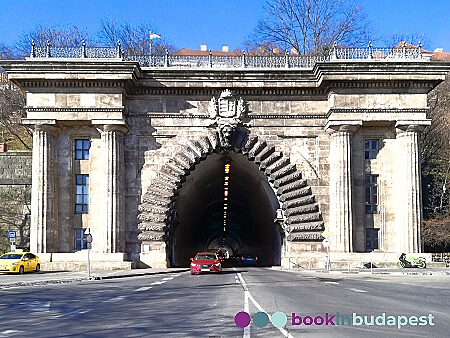 Clark Ádám tér

Bus: 16, 105 - Stop: Clark Ádám tér


Buda Castle Funicular (20m)
Chain Bridge (120m)
Castle Garden Bazaar (400 m)
Fountain of the Fishing Children (400 m)
Matthias Fountain (600 m)
Hungarian Academy of Sciences (700 m)
Gresham Palace (810 m)