Matthias Fountain
Fountain of King Matthias: an iconic fountain in the Hunyadi courtyard of the Royal Palace
The popular Matthias fountain is located in the courtyard of Hunyadi, the most beautiful courtyard of the Royal Palace.
The popular attraction depicts King Matthias and his entourage, who are resting at a spring while hunting.
The statue was made by Alajos Stróbl and has been in this place since 1904.
According to city legend, if you throw a coin into the fountain, you will return to Budapest.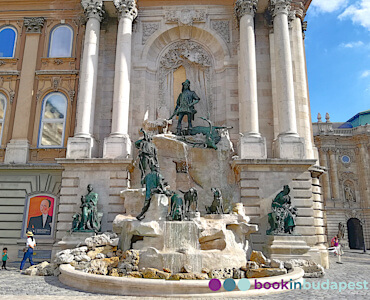 1013 Budapest, Szent György u.

Bus: 16 - Stop: Dísz tér


Royal Palace (0 m)
Garrison (30 m)
Royal Riding Hall (80 m)
Hungarian National Gallery (100 m)
Statue of Prince Eugene of Savoy (100 m)
Fountain of the Fishing Children (150 m)