Royal Riding Hall
Royal Riding Hall: former riding school in Buda Castle
The Royal Riding Hall is located in the Csikós courtyard of the Royal Palace.
During the reconstruction of the Royal Palace in the late 19th century, a representative courtyard was designed for this area. The Riding Hall building was completed in 1900. The neo-baroque building was built according to the plans of Alajos Hauszmann.
At the turn of the century, the Riding Hall was used only for court purposes until 1938, when it expanded with its Spanish riding school, and the riding unit held representative demonstrations here.
During World War II, the building was damaged and later demolished. The building seen today was completed in 2021 as a faithful replica of the original building.
The building operates as an event venue.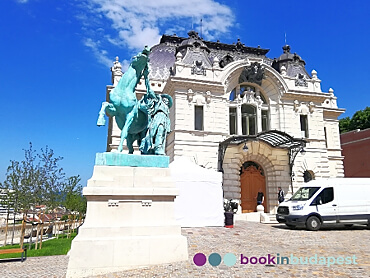 1014 Budapest, Csikós udvar

Bus: 16 - Stop: Dísz tér


Royal Palace (0 m)
Garrison (30 m)
Széchényi National Library (60 m)
Budapest History Museum (100 m)
Hungarian National Gallery (140 m)
Statue of Prince Eugene of Savoy (140 m)