Garrison in the Buda Castle
Garrison: the former barracks of the royal palace guard in the Buda Castle
The Garrison building (Palace of the Royal Guard) is located in the Hunyadi courtyard of the Royal Palace.
During the reconstruction of the Royal Palace in the late 19th century, a representative courtyard was designed for this area. The Palace of the Royal Guard was completed in 1903. The building was built according to the plans of Alajos Hauszmann.
The guards housed in the building was responsible for guarding and protecting the Royal Palace and protecting the royal family.
During World War II, the building was damaged and later demolished. The building shown today was built in 2020.
The building houses an exhibition on the history of the Hungarian Royal Guard, and a restaurant.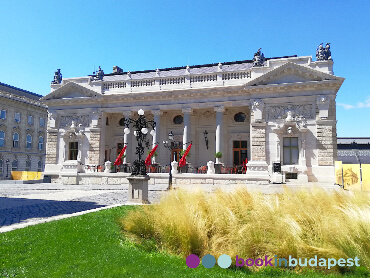 1014 Budapest, Hunyadi udvar

-

Monday: 11:00 - 18:00
Tuesday: 11:00 - 18:00
Wednesday: 11:00 - 18:00
Thursday: 11:00 - 18:00
Friday: 11:00 - 18:00
Saturday: 11:00 - 18:00
Sunday: 11:00 - 18:00

Bus: 16 - Stop: Dísz tér


Royal Palace (0 m)
Royal Riding Hall (30 m)
Széchényi National Library (60 m)
Budapest History Museum (100 m)
Hungarian National Gallery (140 m)
Statue of Prince Eugene of Savoy (140 m)